PFASology is a science podcast covering the different disciplines of PFAS research. It is created by the 15 early-stage researchers (ESRs) within PERFORCE3. Over the course of the series, the ESRs will discuss the challenges and solutions associated with the global occurrence of PFAS.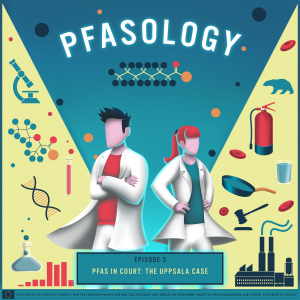 Episode 3: PFAS in court – the Uppsala case
In 2021, Uppsala Vatten & Avfall AB lost a legal case against the Swedish military. The Swedish court ruled that the armed forces do not have to compensate the municipal water treatment company for high levels of PFAS contamination in the local drinking water source. In this episode, we talk about this verdict and the upcoming appeal with Philip McCleaf, who works as an engineer at Uppsala Vatten. Also present is Lutz Ahrens, an associate professor who was involved in the research that initially lead to the discovery of the PFAS contamination in Uppsala's drinking water.
Listen to the podcast below or on Spotify here.